Flat Feet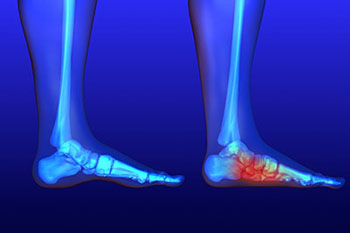 Those who have a very low foot arch or no arch at all have a condition referred to as flat feet. Most children are born with flat feet and will gradually develop arches in their feet over time. However, if the arch does not develop, it's likely for one to experience foot pain as they grow older. Those with flat feet tend to walk with an overpronation, often causing the feet to point outward. Since the feet carry the weight of the body, it can put an immense amount of pressure on those with little to no arch because that extra support is absent. The weight of the body is often unevenly distributed as well.
People with flat feet may feel foot pain due to a straining of their muscles and connecting ligaments. It's also common for people with flat feet to roll their feet as they walk, which may in turn cause discomfort for the ankle. Swelling of the calf, lower legs, knees, and lower back may form as a result of flat feet, along with the feeling of stiffness in the feet as well. Some of the most common reasons for the development of flat feet include genetic factors, a foot or ankle injury, arthritis, and damage to the nervous system. Specific exercises and foot stretches may help alleviate the discomfort that flat feet can often cause.
If you would like more information about caring for flat feet, we suggest that you speak with a podiatrist who can offer you professional recommendations and an advised treatment plan.