The Complex Elegance of the Human Foot
Tuesday, 24 October 2023 00:00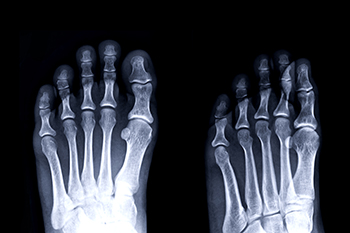 The human foot is a marvel of biomechanical engineering, uniquely shaped and intricately structured to provide stability, balance, and mobility. Each foot contains 26 bones, 33 joints, and over 100 muscles, tendons, and ligaments all working together to support our body weight and facilitate movement. The foot's formation begins early in fetal development, with cartilage gradually ossifying into bones and its distinct arches taking shape. The arches, known as medial, lateral, and transverse, enable shock absorption and weight distribution, making the foot flexible yet resilient. The metatarsal bones form the foot's longitudinal arch, while the tarsal bones provide the transverse arch. This complex design ensures that the foot can withstand the rigors of walking, running, and standing for extended periods. As we grow, our feet evolve, adapting to the unique pressures and movements they experience. If you would like additional information about the intricacies of the foot, it is suggested that you consult with a podiatrist.
If you have any concerns about your feet, contact Dr. Ronald K. Olm from Grand Traverse Foot & Ankle Center. Our doctor can provide the care you need to keep you pain-free and on your feet.
Biomechanics in Podiatry
Podiatric biomechanics is a particular sector of specialty podiatry with licensed practitioners who are trained to diagnose and treat conditions affecting the foot, ankle and lower leg. Biomechanics deals with the forces that act against the body, causing an interference with the biological structures. It focuses on the movement of the ankle, the foot and the forces that interact with them.
A History of Biomechanics
Biomechanics dates back to the BC era in Egypt where evidence of professional foot care has been recorded.
In 1974, biomechanics gained a higher profile from the studies of Merton Root, who claimed that by changing or controlling the forces between the ankle and the foot, corrections or conditions could be implemented to gain strength and coordination in the area.
Modern technological improvements are based on past theories and therapeutic processes that provide a better understanding of podiatric concepts for biomechanics. Computers can provide accurate information about the forces and patterns of the feet and lower legs.
Understanding biomechanics of the feet can help improve and eliminate pain, stopping further stress to the foot.
If you have any questions please feel free to contact one of our offices located in Traverse City and Kalkaska, MI . We offer the newest diagnostic and treatment technologies for all your foot and ankle needs.
Read more about The Importance of Biomechanics in Podiatry