Tips for Healthy Feet
Tuesday, 30 July 2019 00:00
Feet are the workhorses of the body, taking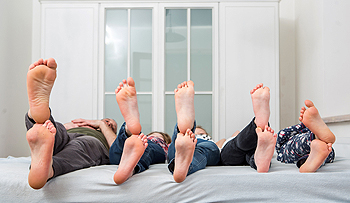 about 5,000 steps per day. On top of that, we cram them into shoes and stand on them for most of the day. Luckily, there are some ways to take care of your feet and protect them from the wear and tear of the day. Some foot therapy you can do includes checking them daily for cuts and sores, cleaning them in warm water, moisturizing with lotion or a cream, wearing comfortable well-fitting shoes, and trimming your toenails. If you would like to know how to take better care of your feet, visit with a podiatrist to discuss the best ways to do it.

Foot therapy is often necessary for those recovering from either foot deformities or foot injuries. If you have concerns regarding therapy, Dr. Ronald K. Olm of Grand Traverse Foot & Ankle Center. Our doctor can provide the care you need to keep you pain-free and on your feet.
Most Common Injuries
People who are active or athletes are prone to a variety of injuries. Therefore, it is often important to take part in physical therapy in order to quickly get back on the right track.
What to Do When Injured
Physical Therapy – This specialized treatment will focus on the affected area, speeding up recovery and the overall healing process. It is a proven method that has helped millions of people return from any injury.
During physical therapy you will undergo regimented training to get back into full form. Training is often very difficult, especially at first when the foot feels weak. Physical therapy often involves:
Basic stretching and twisting exercises – getting the feet's mobility and flexibility up.
Massaging – the therapist will massage the injured area in order to activate the muscles and relax them.
Strengthening Exercises – this allows the muscles in the affected area to regain their full strength, a vital step towards full recovery.
If you have any questions please feel free to contact one of our offices located in Traverse City and Kalkaska, MI . We offer the newest diagnostic tools and technology to treat your foot and ankle needs.
Read more about Foot Therapy for Sports Injuries